Cross-country skiing
With 40 km of groomed trails, the Parc régional Montagne du Diable is a skier's paradise! Glide across an ancient forest in the High Laurentians. Breathe revitalising pure fresh air. Hours of winter pleasure await thanks to our teams' mechanically groomed trails.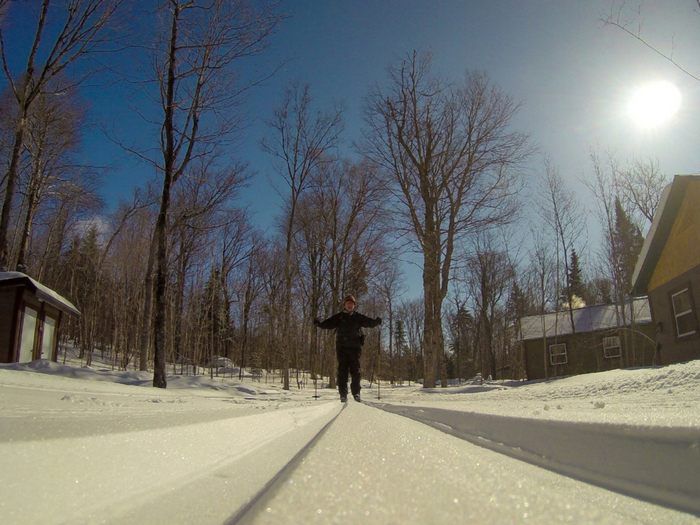 Why don't you plan a vacation combining cross-country,
nordic skiing
and
skate skiing
with an overnight stay in a
mountain cabin
or in a
Village des Bâtisseurs cabin
(access fees mandatory). Live a memorable wilderness experience! Our trails, rated from easy to challenging for both beginners and experts allow you to discover this magical mountain's remarkable flora and fauna landscape.
Daily
| | |
| --- | --- |
| 19 yrs and + without cabin rental |  9.57$ |
| 19 yrs and + with cabin rental |  6.96$ |
| 18 yrs and – |  Free |
No-limit yearly membership
| | |
| --- | --- |
| Individual |  121,76 $ |
| Family (2 adults same address) |  191,35  $ |
| Student 19 yrs and + |  60,89 $ |
| 18 yrs and – |  Included family |
Taxes not included.
Access for all hiking, skiing, mountain biking, fat biking and nautical activities.
Yearly Ski Pass
| | |
| --- | --- |
|  Individual |  95,68 $ |
|  Family (2 adults same address) | 147,86 $ |
|  Student 19 yrs and + |  47,84 $ |
|  18 yrs and – |   Included family |
Taxes not included.
Recommended equipment
Cross-country skis
Snacks
Drinking water
Adequate clothing
Extra clothing
First aid kit
Flashlight or head lamp
Rules and regulations
Activities
The trails are especially mapped out and maintained to let you experience the most beautiful sites of this protected area on Devil's Mountain. It is therefore prohibited to go off trail so that in case of an eventual problem you will be quickly located. It is also prohibited to use a ski trail when on snowshoes or vice-versa.
The lifejacket for nautical activities must be worn at all times as well as the mountain biking and fat bike helmet.
Responsibilities
The Regional Park Devil's Mountain can assure a good outcome of your stay or activity, without however being held responsible for the unpredictable (bad weather, unforeseen logistical problems…) unforeseeable natural catastrophes or work related strikes etc. The Regional Park Devil's Mountain will not be held responsible for unpaid reserved activities on the mountain.
Each participant must recognize that the practise of the activities and his or her aptitude for it, proposed by the Regional Park Devil's Mountain could present certain risks that he or she must personally assume by his or her inscription or having paid an access fee. Therefore the participant agrees to renounce any reclamation against the Regional Park Devil's Mountain, the directors, employees, agents or representatives in the case of incidents, accidents, death whatever the cause. This also applies to skidoo transportation. If an emergency evacuation because of injury, fatigue or after becoming lost is required, you will be charged accordingly (see all rates and pricing)
Reclamations
Despite all the careful planning of our activities, it's possible that an event is comprised. We invite you to contact us in writing, no later than 10 days, by a registered letter with return receipt. In case of legal action, only the Québec courts are recognized as competent.
Photos
When a client accepts to transfer their photos to the image bank (photo gallery) of the Regional Park Devil's Mountain at the end of their visit, he accepts that the Regional Park Devil's Mountain can use these photos for commercial purposes without compensation.
Rules and environment
It is prohibited to start a fire or smoke in the forest, as well as outside or near the cabins, except at the prearranged places.
It is prohibited to pick or destroy any natural element as well as pet wild animals.
Trail Maps (French only)
Cross-country skiing preparation
A hiker's responsibility
Security, autonomy, prospering
Plans their hiking with respect to its length, difficulty and carried weight according to their physical capacity and endurance
Updates knowledge of weather, or unfavorable conditions (hunting, wild animals, trail conditions)
Carries a first aid kit, a trail map as well as provisions and adequate equipment needed for water purification, fire making and night shelter, as well as rain gear
Checks in at one of our offices /or gets an access pass; hiking alone, lets someone know of their plans and time of return and carries a cell phone
Respects the signage and regulations
The hiker's consideration for others
Respect, sharing, kindness
Respect the right of others (humans and animals) for silence and privacy
Assist someone in difficulty to overcome obstacles and difficult sections (rapid streams, fallen timber, boulders)
Do not leave anyone behind alone
Offer help to anyone injured and ensure that they are looked after, even if it means changing your plans
Share water, food and blankets when necessary
The hiker and his environment
Protection, responsibility, legacy
Do not stray from the trail out of concern for protection of the flora (and one's own safety); avoid walking on the moss and lichen if the trail crosses rocks
Do not pick plants, roots, or dead wood, rocks or feed the animals (rodents, birds)
Policy of leave no trace; for your personal needs where there are no sanitary installations, respect the distance from waterways and bury the evidence
Camp only where permitted
Avoid unnecessary fires, even where permitted and use a Coleman stove instead
Please notify the personnel of any broken installations (bridges, ropes and chains or signage) and places where garbage has been left, if you cannot pick it up yourself.
Source : Rando Québec
Whether you choose a brief or longer stay
we have designed several
circuits so that you can experience
the absolute best of the mountain!