Fatbike
Have you heard about the Fatbike? A bike with huge fat rubber wheels that lets you bike on snowy or soft surfaces. Mountain bike lovers are gratified with these winter bikes as they give you the same exhilarating sensations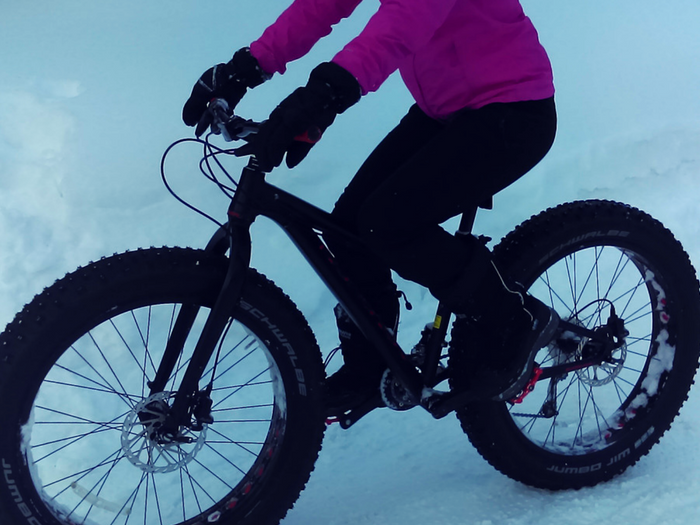 Presently in Québec, you won't find very many trails dedicated to this sport. Typically, bikers that practice this sport have to share trails with skiers or snowshoers. The Regional Park Devil's Mountain can propose several routes (access fees mandatory). Come and practise your favorite activity in the breathtaking beauty of the enveloping landscape. Plan your stay to spend a few nights in a
mountain cabin
or in a
Village des Bâtisseurs cabin
and enjoy a memorable experience.
Daily
| | |
| --- | --- |
|  Adult |  6,96 $ |
|  18 yrs and – |  Free |
No-limit yearly membership
| | |
| --- | --- |
| Individual |  121,76 $ |
| Family (2 adults same address) |  191,35 $ |
| Student 19 yrs and + |  60,89 $ |
| 18 yrs and – | Included family |
Taxes not included.
Access for all hiking, snowshoeing, skiing, mountain, biking, fat biking and nautical activities.
Recommended equipment
Mandatory helmet
Snacks
Drinking water
Adequate clothing
Extra clothing
First aid kit
Bike flat tire repair kit
Flashlight or head lamp
Sun screen
Rules and regulations
Activities
The trails are especially mapped out and maintained to let you experience the most beautiful sites of this protected area on Devil's Mountain. It is therefore prohibited to go off trail so that in case of an eventual problem you will be quickly located. It is also prohibited to use a ski trail when on snowshoes or vice-versa.
The lifejacket for nautical activities must be worn at all times as well as the mountain biking and fat bike helmet.
Responsibilities
The Regional Park Devil's Mountain can assure a good outcome of your stay or activity, without however being held responsible for the unpredictable (bad weather, unforeseen logistical problems…) unforeseeable natural catastrophes or work related strikes etc. The Regional Park Devil's Mountain will not be held responsible for unpaid reserved activities on the mountain.
Each participant must recognize that the practise of the activities and his or her aptitude for it, proposed by the Regional Park Devil's Mountain could present certain risks that he or she must personally assume by his or her inscription or having paid an access fee. Therefore the participant agrees to renounce any reclamation against the Regional Park Devil's Mountain, the directors, employees, agents or representatives in the case of incidents, accidents, death whatever the cause. This also applies to skidoo transportation. If an emergency evacuation because of injury, fatigue or after becoming lost is required, you will be charged accordingly (see all rates and pricing)
Reclamations
Despite all the careful planning of our activities, it's possible that an event is comprised. We invite you to contact us in writing, no later than 10 days, by a registered letter with return receipt. In case of legal action, only the Québec courts are recognized as competent.
Photos
When a client accepts to transfer their photos to the image bank (photo gallery) of the Regional Park Devil's Mountain at the end of their visit, he accepts that the Regional Park Devil's Mountain can use these photos for commercial purposes without compensation.
Rules and environment
It is prohibited to start a fire or smoke in the forest, as well as outside or near the cabins, except at the prearranged places.
It is prohibited to pick or destroy any natural element as well as pet wild animals.
Trail Maps (French only)
Fatbike preparation
In winter, the trails used for Fatbiking are often the same as in summer, but you also have access to selected snowshoe and cross-country trails. As this sport is fairly new in the Park, other users might not be accustomed to your presence. Be courteous!
1. Prepare you outing
Know your equipment and don't overestimate your capacities. Check the weather, and prepare accordingly with appropriate clothing. A well planned outing will keep you safe. Carry a repair kit in case of break downs.
2. Don't bike on closed trails
Whether for environmental concerns or for biker protection safety, a trail will be closed for a good reason. Biking on closed tails give mountain bikers a negative reputation. Above all, never ride on the groomed cross-country trails. On the ski trails, it's important to ride near the tracks and never in the middle of the trail.
3. Don't bike in soft snow
Make sure that the trail is safe. Biking on a wet snowy trail will leave traces which will make future navigation difficult, especially when the weather freezes up later. It can damage or erode the trail, creating expensive maintenance problems. If you can't ride in a straight line or if your tire sinks more the 2.5 cm in the snow, or if you can't climb a small hill, it's time to go home.
4. Respect the fauna and surroundings
Stay on the trail and bike responsibly. Ride, don't slide. Don't litter and don't leave broken bike parts on the trail. Find a garbage bin for disposal.
5. Stay on the trail
Don't take shortcuts in the forest. Keep singletrack single. The Regional Park Devil's Mountain Fatbike routes are : the lac de la Montagne loop on the cross-country ski trails (8a-8d-6) and snowshoe trails (3a-2b-3a1) as well as the trail going to the little ski shack 8d and coming back by the 2b or 8d trail.
6. Bike responsibly on crowded trails
On popular trails, be a careful biker and don't put yourself or other bikers in danger. Warn other bikers of your presence. Give way to beginner bikers, especially when the trail curves and slow down.
7. Don't change the trails
Before changing a trail, be sure to have permission. Or notify the Park of any possible trail improvement.
8. Get involved
Don't hesitate to contact the Regional Park Devil's Mountain if you want to be part of our team of volunteers.
Remember, dogs or any other animals are not allowed in the Park when Fatbiking.
Source : Francis Tétrault, Vélo Québec