Stand up paddle
Stand up paddle, originating in Hawaii, is a mix of surfing and kayaking. This activity is done standing up like a surfer, but on calm water. This sport is a total body sport done while enjoying nature. This surf boarding proposes a sun bath on a beautiful mountain lake.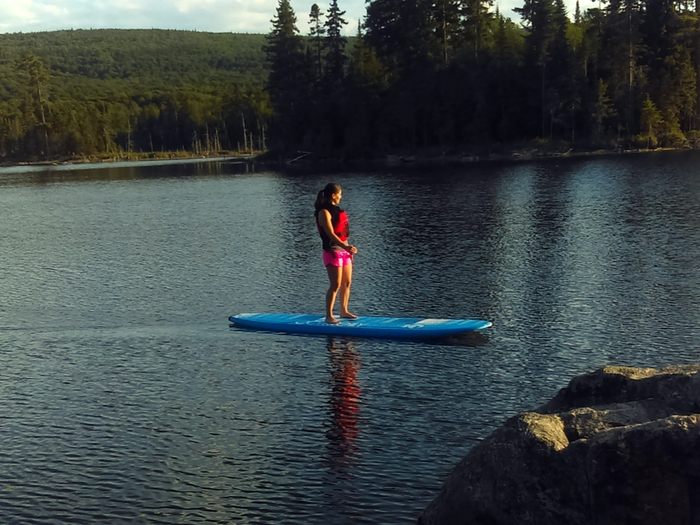 This summer, escape, alone or with friends and family and discover this sport by renting a SUP at the
Village des Bâtisseurs
(access fees mandatory). Within a day, you'll easily know Lac de la Montagne by heart.
Daily
| | |
| --- | --- |
|  Adult |  6,96 $ |
|  18 yrs and- |  Free |
No-limit yearly membership
| | |
| --- | --- |
| Individual |  121,76 $ |
| Family (2 adults same address) |  191,35  $ |
| Student 19 yrs and + |  60,89 $ |
| 18 yrs and – | Included family |
Taxes not included.
Access for all hiking, snowshoeing, skiing, mountain, biking, fat biking and nautical activities
Recommended equipment
Life jacket (mandatory)
Paddle
Sun screen
Hat
Drinking water
Rules and regulations
Activities
The trails are especially mapped out and maintained to let you experience the most beautiful sites of this protected area on Devil's Mountain. It is therefore prohibited to go off trail so that in case of an eventual problem you will be quickly located. It is also prohibited to use a ski trail when on snowshoes or vice-versa.
The lifejacket for nautical activities must be worn at all times as well as the mountain biking and fat bike helmet.
Responsibilities
The Regional Park Devil's Mountain can assure a good outcome of your stay or activity, without however being held responsible for the unpredictable (bad weather, unforeseen logistical problems…) unforeseeable natural catastrophes or work related strikes etc. The Regional Park Devil's Mountain will not be held responsible for unpaid reserved activities on the mountain.
Each participant must recognize that the practise of the activities and his or her aptitude for it, proposed by the Regional Park Devil's Mountain could present certain risks that he or she must personally assume by his or her inscription or having paid an access fee. Therefore the participant agrees to renounce any reclamation against the Regional Park Devil's Mountain, the directors, employees, agents or representatives in the case of incidents, accidents, death whatever the cause. This also applies to skidoo transportation. If an emergency evacuation because of injury, fatigue or after becoming lost is required, you will be charged accordingly (see all rates and pricing)
Reclamations
Despite all the careful planning of our activities, it's possible that an event is comprised. We invite you to contact us in writing, no later than 10 days, by a registered letter with return receipt. In case of legal action, only the Québec courts are recognized as competent.
Photos
When a client accepts to transfer their photos to the image bank (photo gallery) of the Regional Park Devil's Mountain at the end of their visit, he accepts that the Regional Park Devil's Mountain can use these photos for commercial purposes without compensation.
Rules and environment
It is prohibited to start a fire or smoke in the forest, as well as outside or near the cabins, except at the prearranged places.
It is prohibited to pick or destroy any natural element as well as pet wild animals.